Home Page
Strathy is a scattered crofting community situated on the north coast of Scotland, about twenty miles west of Thurso on the A836. It lies on the route of the "North Coast 500" approximately midway between John O Groats in the east and Durness in the west. O.S. Ref: NC 837 658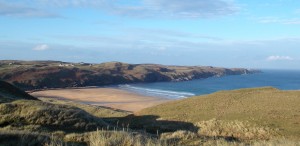 Its most popular visitor attraction, the award winning (blue flag) beach can be accessed by turning off the main A836 in the direction of Strathy East and following the winding, single track road, past the cemetery to the car parking area, where there is a log cabin with visitor information and toilet facilities.
A walk from the car park to the top of the "White Hill" provides a panoramic view of the beautiful bay and surrounding area. Facing south down the valley, Strathy East is nearest on the left and Strathy West lies just beyond the A836 on a road/track that leads to Strathy North Forest and beyond. The River Strathy which flows out of Loch Strathy some 12 miles inland, meanders down the valley before flowing into the sea on the western edge of the beach. Just to the right of the road bridge over the river is the modern Community Hall, easily identified by its green roof, and further up the hill to the right is the Strathy Inn. Just beyond the Inn is the Strathy Point road. This heads northwards along the peninsula and ends in a car park from which is a short walk to Strathy lighthouse. Facing north you are looking out to the North Atlantic Ocean with the beach and dunes of Strathy Bay enclosed to the west by Strathy Point and to the east by a stack and cliffs containing a number of caves.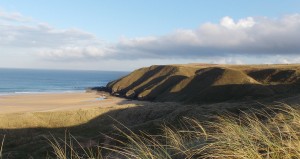 Strathy Bay and the surrounding area has more to offer than just its award winning beach and stunning views, it has an interesting history and geology, provides some excellent bird and marine life and is becoming increasingly popular with surfers.
Strathy Point is a Special Conservation Area (SCA) and all the coastal fringe of Strathy Bay is designated as an area of SSSI, so please treat the natural environment, its flora and fauna with respect and note that vehicles should not be driven onto the sand dunes.