The Log Cabin
The need for a public toilet for visitors to Strathy Bay and Strathy Cemetery was recognised by people in the local community and brought to the attention of the authorities by the Community Council during 1998. An initial attempt to secure funding did not meet with success but a small group of determined individuals worked together in pursuit of this goal and Strathy Bay Environmental Action Group (SBEAG) was established during 1999. The Group enhanced the original plans to provide information displays as well as a public toilet and submitted a planning application in May 2000 for a log building to house these facilities. When conditions had been met and funding had been secured the Group applied for a Building Warrant which was issued in March 2001.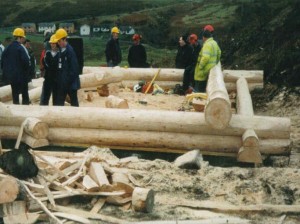 The logs used in the construction of the log cabin were donated by Forest Enterprise and came from Borgie Forest, as did the wood for the floor which was donated by North Sutherland Community Forestry Trust. During construction, interested local "woodworkers" had the opportunity to undertake training in the art of log cabin building, the training being provided by a professional craftsman.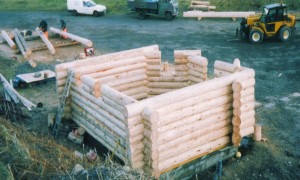 The lighting and water heating are provided by the photovoltaic panel and solar thermal panel on the south facing roof.
The care and maintenance of the cabin is carried out by local SBEAG volunteers with costs being met in part by the Community Council and part from local fund raising efforts and donations.